On Monday the 15th of October 2007, 25 brave warriors entered gruul's lair.
But these warriors did not cower, no, because they knew that this would be the day, that gruul fell to his feet and muttered his final words. The fight started off with an intense boom, as Xaizu and Monarmi ran in and put gruul to the test, followed closely by the guys with the Big swords n' Hammers.
From every angle, Bolts of frost, shadow and fire were flying at gruul, arrows and bullets slammed into his head, he tried to stop us by slamming violently on the ground, but he knew this would not work, not today. His body hit the ground, shaking the entire cave, but the 25warriors remained steady. Goodbye Gruul.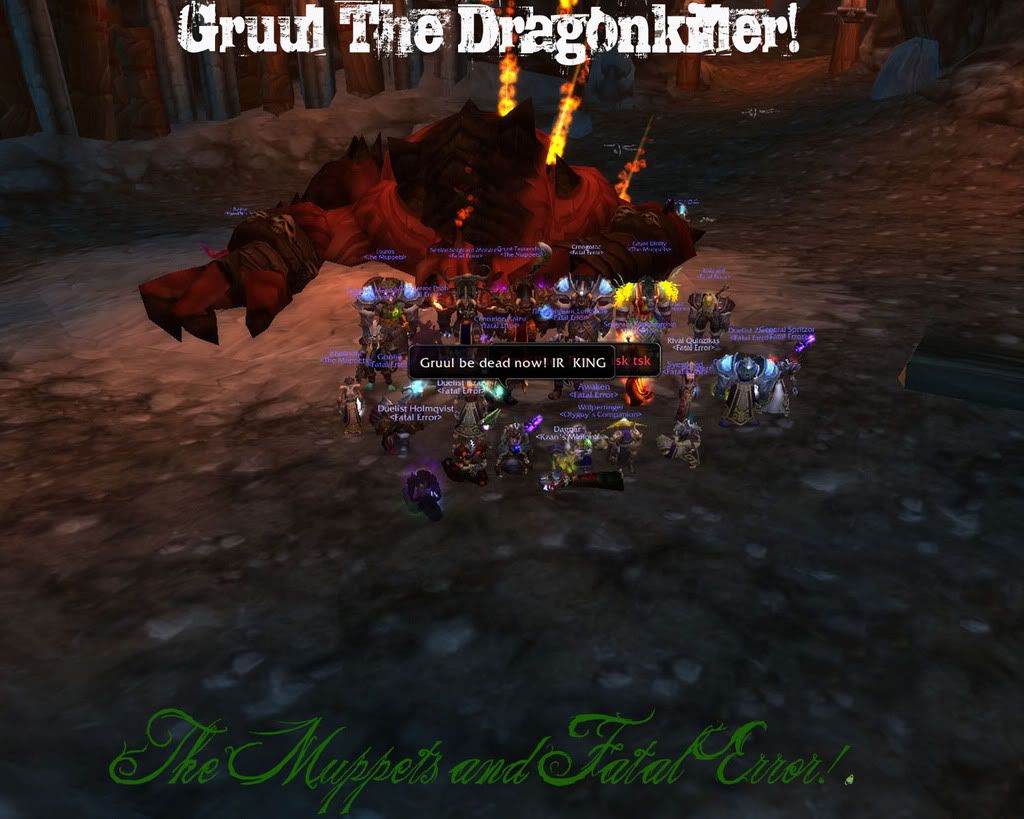 In other words, Gruul has been killed by the combined efforts of Fatal error and The Muppets!
Loot was:
Tier 4 Warrior leggings: Monarmi (Guild leader and Tank of Fatal Error)
Tier 4 Hunter leggings: Meraljin (Hunter and Guild leader of The Muppets)
Aldori Legacy Defender: Monarmi (Guild leader+ Tank of Fatal Error)
Cowl Of Natures Breath: Dinity (Druid Healer of The Muppets)
Gratz everybody, we'll see gruul again this wednesday!